Osprey BC and KR Enduro Series Partners with IMBA Canada for 2016
November 27, 2015 -- A new partnership between between IMBA Canada and the Osprey BC and KR Enduro Series (BCES) will bring IMBA Canada's Trail Care Crew to race locations in 2016.
It's a very thrilling time to be a mountain biker, as commercial companies, events, tourism industry and adventurers are all realizing the power of two wheels. Mountain biking as an industry is evolving at an exponential rate, yet the real power behind the love of mountain biking is the hard working individuals, community interest groups (cycling clubs) and passionate riders that spend countless hours investing in trails for everyone to ride their bikes on.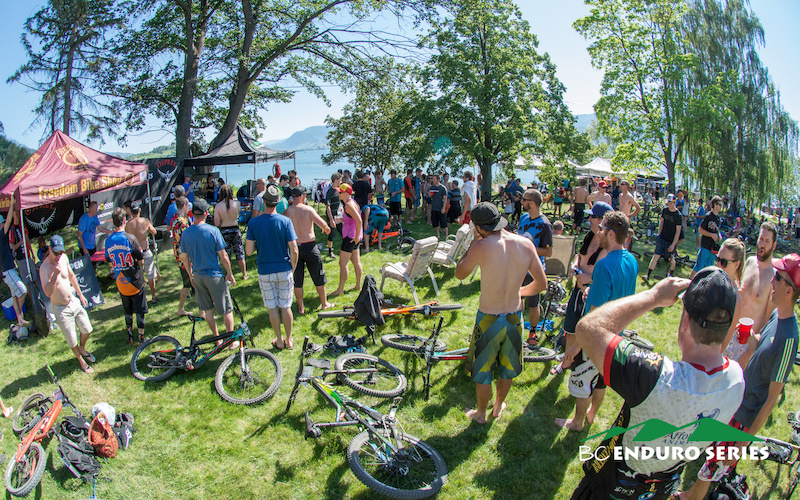 Penticton has been a favourite spot among riders, it is the result of some very hard working, creative and passionate community members.
Whether it's land access through relationship building, sustainable trail building, collaboration between key stakeholders or a simple high-five, the BCES has always strived to contribute back to the communities that welcome riders of the series with buff singletrack. To date the BCES has contributed more than $20,000 to local trail clubs and working groups, and in 2016, they will deepen their commitment to the mountain bike community through a partnership with the International Mountain Bicycling Association (IMBA) Canada.
Another active group of community members.
The goal of the partnership is to support host communities of the Osprey BC Enduro Series with a free IMBA Canada Trail Care Crew visit focused on maintaining and improving the high quality trails ridden during the event. A popular and growing series, the BCES hosts races in many different locations across BC and parts of Alberta, and acknowledges that a big part of its success comes from the willingness and eagerness of host communities to share their trails. In order to ensure the continued sustainability of the series, the partnership will aid communities in their efforts to build and maintain quality singletrack, and mitigate the impacts of the event on the trail.
For 2016, IMBA Canada will hold a Trail Care Crew workshop alongside the race event at a select number of races. And as an added bonus, attendees of the workshop will have an opportunity to win a free BCES entry!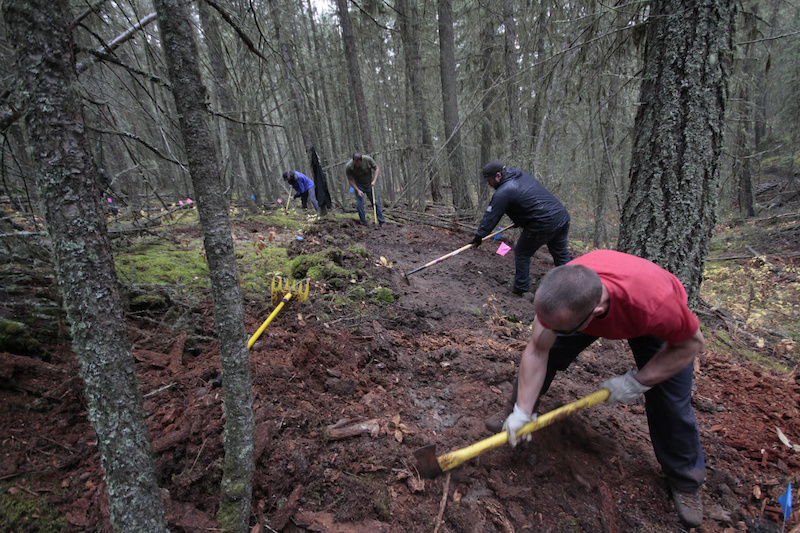 Empowering local communities to build for success!
IMBA Canada and the Osprey BC and KR Enduro Series are grateful for the past communities that have hosted an event and look forward to working with current/future communities on sustainable trail projects.
For more information please contact:

AJ Strawson,
Manager, Field Programming | IMBA Canada
aj [dot] strawson [at] imbacanada [dot] com

Ted Morton,
Event Director | BC & KR Enduro Series
ted [at] bcenduro [dot] com
News
Western Mountain Bike Advocacy Symposium - Building a Diverse Mountain Bike Community
ThinkBike - Building a BC MTB Advocacy Coalition
Take A Kid Mountain Biking Day 2018 Registration is Live!!
You belong with IMBA Canada